At Cromwell Vets in Cambridgeshire, we are pleased to offer a comprehensive healthcare plan via the convenience of a low monthly direct debit, spreading the cost of essential preventive care over 12 months. Our new and improved Pet Health for Life Plan is a great way to cut the cost of routine care which keeps your cat in the best possible health and helps them lead happier lives.
Getting your cat or kitten microchipped will soon be is now a legal requirement. The Government's announcement on 13 March 2023 means that all pet cats in England must be microchipped by 10 June 2024.
Whilst microchipping your cat isn't compulsory at the moment this chip helps reunite lost animals with their owners and is included in the Pet Health For Life Plan.
The Pet Health for Life plan is great value for money.
Vaccination for flea prevention, worming, microchipping, and health checks are included in this comprehensive plan.
Join the plan today and start enjoying great discounts such as 10% off neutering
as well as 2 consultations with a vet and 2 consultations with a nurse*
What does the Pet Health for Life Plan cover?
Annual health checks and vaccinations
All year-round flea, tick and worming treatment including ear mites in cats
2 x consultations with a Vet*
2 x consultations with a Nurse*
10% off neutering
Microchipping
Nail clipping** (as required, subject to availability)
Anal gland expression** (as required, subject to availability)
At Cromwell Vets, our Pet Health for Life Plan has been priced to offer fantastic value with the option to spread the cost of your annual plan over 12 low monthly direct debit payments. Our Pet Health for Life Plan prices for cats and kittens start from £16 a month by direct debit.
If you have any questions our expert team at Cromwell Vets will be delighted to help you.
Pet Health for Life is not a pet insurance policy.
The product is a way to spread the cost of routine preventative pet care at the recommended annual doses, however, it does not cover the costs of veterinary care for unexpected illness or injury to your pet. We recommend taking out separate pet insurance for this. All treatment is subject to clinical assessment and need.
For New Pet Health for Life Plan of signed up on or after 31st October 2022, your Terms of Service are here.
To view our Pet Club terms of service click here and here.
---
*Terms of service apply. Click here for full terms of service
**Nail clipping and anal gland expression will be provided when appropriate and as part of a wider appointment.
---
Pet Health for Life Plans for Dogs
To learn more about our Pet Health for Life Plan for your dog, click here.
---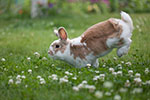 Pet Club for Rabbits
To sign up for our Pet Health Club for your rabbit, click here.