In the beginning......
In 1900, there were only two Veterinary Practices in Huntingdonshire. One in Ermine Street owned by a Mr Smith and the other in Post Street, Godmanchester, where Mr Stanley Goodwin Masterman practiced.
---
One Hundred Years Ago – 17th October 2011
On Mr Smith's death, Stanley Masterman purchased 36 St John's Street and converted what was an end of terrace house into a suitable Veterinary Surgery for him to practice in. Whilst he lived in one half (known as Lyndhurst) the other half was transformed into a small surgery, four loose boxes (but only for his own horses), a panelled harness room, plus a coach house with a hayloft above. Mr Masterman was a keen horseman and was very fond of hunting but he never developed the full potential of his Veterinary Practice.
---
Mr Thomas Fredrick Hall
This was left to Mr Thomas Fredrick Hall who bought the practice from Mr Masterman in 1920. Fred (as he was affectionately known) uprooted his family to this area after 18 years practicing in Saffron Walden. Fred qualified in veterinary medicine in Edinburgh in 1899. His veterinary work was interrupted when he was enlisted into the Army during the First World War; where he served as a Dragoon in the Staffordshire Regiment, gaining the rank of Captain. Returning to veterinary medicine Fred took a special interest in small animals and had a countrywide reputation for his skills, although the Practice in St John's Street focused mainly on horses and farm work. Even with the increasing workload covering pigs, dairy and beef cattle, this didn't stop him taking the opportunity to develop the small animal side of the business further.
---
Mr Ian Gordon Hall
Fred's son, Ian Gordon Hall was born in 1908 and had gained entrance to study History at Emmanuel College in Cambridge. His future plans were to study at Ridley Hall in preparation for ordination into the Church of England, but things didn't quite go to plan. Suffering from stress whilst studying for his exams, Ian began working with his father in 1932 and never returned back to his studies thus never following his dreams and vocation.
Ian Hall gained a lot of work experience especially during the thirties when there was a national tuberculosis (TB) eradication programme, initiated by the Ministry of Agriculture. It was a busy time for all Veterinary Practices throughout the United Kingdom but by the end of the thirties, all cowherds had been tested and the disease was greatly reduced. Throughout this time, Ian took more responsibility for the Practice and was often left in sole charge when his father went on holiday etc. Ian then noticed a substantial increase in pet ownership and began to take the work even more seriously.
---
The Second World War
During the Second World War there was a high demand for farming and keeping livestock. Pigs especially provided a lot of work as regular vaccinations against Erysipelas were needed. Ian was appointed as an Animal Guard and with a team of people, they registered each and every dog in the Huntingdonshire area, giving them collar numbers. These details were kept on a register in case of injury but also provided a great help to the Police in tracing stray pets. Cats were often included at their owner's request.
Fred's health started to deteriorate in 1942 and he subsequently died in 1944. It was at this time that Ian took sole charge of the Practice.
The Veterinary Surgeons Act of 1948 stated that all Veterinarians are to be registered with the Royal College of Veterinary Surgeons (RCVS). People, who had not trained as Veterinary Surgeons but had earned the greater part of their income from veterinary work in eight of the previous ten years, could be registered but only as Veterinary Practitioners with the RCVS. Ian fell into this latter category.
---
Mr Alan Roddis MRCVS
To ensure work with the Ministry of Food and Agriculture (MAFF), Ian had to enrol a fully qualified Veterinary Surgeon into the Practice to undertake the official work. Alan was taken on as a Partner and during his time, the stables were converted into hospital boarding accommodation. The hayloft turned into a dog grooming facility and later into a cattery before changing again into a laboratory. The tack room became a dispensary and the medicines and antibiotics were stored next door in the house cellar. Alan caused a scandal by leaving his family and the Practice to emigrate to Calgary in Canada with his own secretary. This caused shame and upset within the community and it was against all of Ian Hall's Christian beliefs.
---
Mr Thomas Manley Thurley MRCVS
Tom Thurley studied and qualified in Madras in India before joining the Practice and becoming a Partner in 1958. The Practice was re-named "Hall and Thurley". Together, with similar Christian principles, they set the foundations for a highly ethical and moral standard of veterinary care, caring for patient and client with a generous outlook. Often comments would be made to new employees on the integrity of their word and conduct.
Ian Hall would always look for improvements and subsequently "Hall and Thurley" became one of the first Practices in the country to have radiotelephones in their cars. This enabled speedy communication from office to car and later, car to car.
---
Mr David Hasler Soldan BVetMed MRCVS
David Soldan joined the Practice in 1960 and became a Partner in 1964 and "Hall, Thurley and Soldan" was born. To this day, David still has fond memories of Ian asking a new graduate "What would you do old boy?" when a surgical or medical decision had to be made. Ian genuinely wanted to know the latest teaching on any subject even if his experience made him do it his way in the end! David, another Veterinary Surgeon of high morals and ethics, enjoys reminiscing about the past and without his insatiable appetite for this and keeping in touch with old Staff, this history of the Cromwell Veterinary Group and its beginnings, would not have evolved.
David Soldan sadly retired in 2000 but still often visits the Surgery. He keeps us abreast of his travels and news from old members of Staff, with whom he communicates via email.
---
Hall, Thurley & Soldan
In the 1960's, the Practice was very much like the Herriot household. Ian, a life-long bachelor, lived in Lyndhurst next door to the Surgery and was cared for by his maiden aunt. David broke the circle of bachelor hood by marrying Mary in 1961 and Tom quickly followed in his footsteps by marrying Rachel. The Practice then consisted of three Vets, one Receptionist, two Nurses and a part-time bookkeeper.
Ian took charge and answered the night calls and sent Tom or David out at all hours and in all weathers to visit the farms. However, he did see the animals that were brought into the Surgery. Later the wives took an active part in running the Practice by taking the calls at night and at weekends so their husbands would be fit and alert for the long day ahead.
The Practice was still on an upward climb with the small animal work increasing under Ian's care. Tom and David covered most of the farm work and each year new Veterinary Surgeons were employed to cover the demand of the small animal work. Tom started to suffer with back pain and eventually had to stop doing the physical and arduous farm work and settle into looking after the family pets. During this decade the present waiting room and consulting rooms were built on the previous rose garden.
It wasn't until 1970 that the Practice had its first female Veterinary Surgeon, long blonde haired Alison Craven. The new graduate met some initial resistance from the local farmers. Her personality and exceptional capability soon changed their perception and bias, laying a good foundation for the explosion of female Vets over the ensuing years.
Alison left Huntingdon in January 1976 to work with a Christian mission in Nepal. She worked there doing veterinary and community work for 25 years until her visa was not renewed.
In January 1970 Ian Hall decided it was time to retire from active Partnership but continued to work part-time and his name stayed with the Practice for several more years after. He continued to live in the house until he sadly passed away in his sleep while visiting friends in Wiveliscombe, Somerset in December 1993. He left us his legacy of loyalty, integrity, honesty and most of all a work ethic that is second to none in the business that he grew to love.
---
A New Era Begins
An increasing number of Veterinary Surgeons followed, some of whom, became a Partner of the Practice. Mr David Fennell, joined the Practice as a new graduate from Liverpool University in 1972 and quickly became a Partner in January 1975 at the young age of 24. The Practice changed its name to "Hall, Thurley, Soldan and Fennell" on paper alone, as the majority of our clients still affectionately regarded the Practice as "Halls".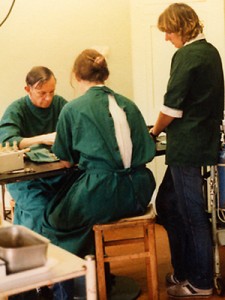 Peter Green arrived in 1981 and took on the responsibility for the equine work within the Practice; he later became a Partner in 1985.
It was at this time, with Ian Hall well into his 80's and not practising veterinary medicine anymore, Tom, David, David and Peter chose their new name of "The Cromwell Veterinary Group". All of them wishing to keep an identity associated with Huntingdon.
John Brown , a Vet who had worked at the Practice for 10 years, joined the partnership in January 1987. He enjoyed DIY and gardening and his skills, other than veterinary medicine, can still be seen today with the odd shelf still hanging on the wall. John left us in July 2002 to search for ventures new.
The Cromwell Veterinary Group not only welcomed a new partner in 1987, but also saw another change to the business. Space was needed for the hospitalisation and nursing care of the Practice's equine patients. Premises were leased in Abbots Ripton solely for this purpose with Peter at the helm with the support of his assistant Matthew Tong.
It wasn't long before the Practice had another new Partner. Vet Gail Foote, who had joined Cromwells in October 1988, became the Practice's first female Partner when she took a salaried Partnership in January 1989. Sadly Gail passed away in July 1995 after battling cancer. It was a very sombre time and she was terribly missed by all who knew her.
With the increase of specialisation in many areas of veterinary work, the business had grown to such an extent that it was decided to employ a Practice Manager; much to the relief of the Partners wives. In September 1989 Sue Morrissey, who was previously employed by the John Lewis Partnership, took control of the administration and the management of the Practice. This released the Partners to return to their first love for which they had been trained! Sue brought an experienced and professional approach to the business thus enabling further expansion. She became the first Practice Manager in the country to become a Partner of a Veterinary Practice in 2001 and one of the first to pass her exams in Veterinary Practice Management. Sue retired to Scotland in December 2004.
---
Relocation, Relocation, Relocation!
In the 1960's we opened a small Branch Surgery in the High Street Warboys. This later transferred to a small building, since demolished, on the corner of Bury Road and Fairfield Drive in Ramsey. Even though this flimsy building often had numerous clients queuing outside, it was a real concern to the Partners. They dreaded the thought of a lorry crash ing through and flattening everything in its wake.
When the opportunity arose in 1989, we moved into the current surgery on the Great Whyte.
In 1972 another Surgery was acquired in the old Parcel Depot of British Rail in Station Road St Ives, before moving to the Chicory factory on Needingworth Road. Still not finding the right premises, the Partners selected to move temporarily to a Portacabin on Somersham Road, (on grounds currently housing the Hi-Sell Direct warehouse). This arrangement was expected to be for a few months but instead we remained there for 2 years before finally finding and moving to the surgery's current position at the Burleigh Centre.
In 1984 the Partners took over, what was once known as the White House, an old workhouse building in Eaton Socon. When a development company later took over the premises they converted the building into flats and incorporated a "purpose built" veterinary surgery for us in the grounds.
For five years we had a Portacabin in the Greystones car park in the heart of Sawtry. This closed in April 1997 after our search for suitable premises was unsuccessful.
All this was happening whilst Huntingdon was kept as the main hospital and where the administration side of the business was based. The Huntingdon Surgery has under gone many changes throughout its one hundred years. Clients were used to waiting in the rose garden to see Mr Hall before it was replaced by the current waiting room. Mr Masterman's loose boxes and stables have been converted over the years to make way for the current kennels and cattery. Even the old 60's frontage was removed in 1987 and replaced with a much-needed façade, which is still with us today. Offices, consulting rooms and theatres have all been developed over the years and have grown into the hospital that Cromwell's are renowned for today.
---
Times Were Changing
During 1990 it was decided amongst the Partners that the equine work should be a separate Practice. Peter Green and Matthew Tong left the Cromwell Veterinary Group to develop Peter Green and Associates in Abbots Ripton. In 2004 it became known as Fellowes Farm Equine Clinic and is still a flourishing business to this day.
In the 1990's the livestock side of farming in East Anglia declined severely and it was increasingly difficult to provide a professional service. The new Veterinarians who joined the Practice did not know the local area or farms and were unable to get the experience they needed for us to continue in this line of work. Farm work then only provided less than 10% of the daily workload.
In 1997 a very hard decision was made – to stop providing a farm service and to concentrate on the small animal work. There had been a certain dichotomy in that most farmers saw us as Pet Vets and the pet clients saw us as Farm Vets, especially if we were called to an urgent farm case during a busy pet animal clinic!
---
The 21st Century
Our services and facilities grow
The Practice continues to grow from strength to strength into the 21st century. In 2005 we started to offer "The Hunts Vets Emergency Service", an out-of-hours service for the region. The Surgery in Huntingdon became one of the first to be accredited as a Tier 3 Veterinary Hospital by the Royal College of Veterinary Surgeons, which was a magnificent achievement for all the Staff who worked so hard towards it. The Practice is also an accredited nurse training facility; in fact, we are renowned for the high standard of our graduates in the veterinary world.
In 2006 we proudly opened our purpose built Surgery in Cambourne. It has become a central feature in the town centre and is growing in strength due to the care and professionalism of the Staff there. In 2013 we were delighted to finally find the right premises in Sawtry, and after 16 years of absence our clients were pleased to see us return to this bustling village.
In the summer of 2011 we welcomed the addition of a new hospital laboratory and dispensary at Huntingdon, and the arrival of our "Buttons Bradley" Room. The room is named after a dear client and her pet poodle Buttons, who sadly died just before his sixteenth birthday. A regular client for many years dating back to Mr Hall's days, Mrs Bradley left us a legacy in her will which enabled the extension to go ahead. We cannot express our deep gratitude enough for the gift and the love she gave with it. Hopefully, in the naming of this room and the writing of this history, they will be remembered for many a year to come. The "Buttons Bradley" room is a quiet and peaceful place where clients can visit their pets or spend precious moments saying goodbye to a much loved friend.
Our hospital went through another transformation in early 2018 with a new extension to house a cattery, second treatment room and third theatre. The new cattery was designed and built to International Cat Care Gold standards with quieter glass fronted kennels laid out in design which means the cats cannot see each other, both measures contributing to reducing stress levels.
Another major development in the Cromwell story in 2018 was the launch of the Cromwell Animal Rehabilitation Centre (ARC). After 5 years of sharing space with the consulting vets at Huntingdon, our physiotherapists were thrilled to be opening the purpose built facility at our Sawtry site. The new building and the inclusion of an underwater treadmill means that we can offer a service we've not been able to before – hydrotherapy. The Cromwell ARC is proving to be a popular and hugely beneficial service for many patients, it's a very welcome addition to the Cromwell family.
The team evolves
At the time of Sue Morrissey's retirement in December 2004, a new management team included a Practice Administrator, Nursing Manager and a Reception Manager. A Finance Manager and HR Manager have also been added to the team in 2014 and 2016 respectively. Another big change has been in the role of Practice Manager. Historically, this pivotal role has almost always been fulfilled by the Directors themselves but with the growth of the Practice, a full time Practice Manager was appointed in 2017.
As well as the management team we have also developed our clinical team to appoint lead vets, branch team leaders and supervisors in many areas. We now have qualified veterinary nurses appointed to supervise insurance claims, the wards, theatre, equipment, clinics and training. All these roles contribute the smooth running of our hospital and surgeries while also ensuring our ever-growing team to be looked after more effectively.
The directors
This decade has brought much change to practice with the retirement of three of our directors and the appointment of one new. We entered the present decade with four directors leading the practice – David Fennell, Anthony Taylor, Joseph Munoz and Nigel Belgrove.
In April 2013, after over 19 years Anthony Taylor retired from the partnership and a few years later retired from veterinary work altogether. Anthony, or Tony to his friends, joined the Practice in March 1989 and became a full Partner in January 1994. Anthony, in his Barbour jacket and Labrador at his side, is known as local gentry within the St Neots and Cambourne community. A family man and farmer, he part owns a local farm where he is renowned for rearing sheep. Anthony was a trusted Veterinarian whose operating skills, insight and forward thinking have nurtured the growth of the Cromwell Veterinary Group into another era.
On 31st December 2016 our longest standing staff member, and the last to practice under the guidance of Mr Hall, retired. After nearly 45 years in practice (42 years of which in the partnership), David Fennell finally hung up his veterinary scrubs for the final time. Many of our Ramsey clients will know David or 'Mr Fen' (as he was affectionately known) well as he spent many years of his career at our Ramsey surgery since it opened on the Great Whyte in 1989. David was very active in the local community, spending much of his spare time helping the local church and community mainly with youth activities. With his work at Cromwells and the local community, Mr Fen was very well-known in the local area and we still get people come into the surgery and give us snippets of information of the "Halls" days and their visits to the surgery to see Mr Fen (or indeed from his farm visits). Many things have changed over the years but presence and leadership of David Fennell was a comforting constant for many staff and clients alike.
The most recent retiree has been Joseph Munoz in June 2019. Joseph began his working career within his father's fruit & vegetable importing business, but dreamt of becoming a Veterinary Surgeon. In 1990 and at the grand age of 30, Joseph became a mature student at Cambridge Vet School whilst juggling married life and starting a family. Joseph arrived at Cromwell Vets in July 1995 and was offered a Partnership in 2001. Over the years Joseph has been a popular member of the team with the staff and clients alike. Although he's worked at all of our branches, he will be more well-known to our St Neots and Huntingdon clients, and perhaps remembered by some people from St Ives where he spent more of his earlier career. He's a funny, gentle man with exceptional people skills and an excellent clinician. After 18 years as a director, Joseph decided to take early retirement to spend more time with his family. However, the story doesn't end there, after a restful summer Joseph has decided to return to veterinary work at Cromwells in September 2019. We extend a very warm welcome back to Joseph.
A note the future generation

To celebrate our 100th birthday in 2011 we had a commemorative stone placed beneath the window of our new extension in Huntingdon. Hidden behind the stone is our time capsule holding small items and photographs from today's veterinary practice, it is hoped that in another 100 years, the staff will open it and get a glimpse of what the surgery was like in 2011.
---
The Current Directors:
Nigel Belgrove MA VetMB MRCVS
Nigel graduated from Cambridge Vet School and joined the practice in September 2000. Nigel is a family man whose interests outside of the practice include travelling, swimming, cooking and wine tasting!.... but not necessarily in that order. Nigel has a professional interest in orthopaedic and soft tissue surgery, but he enjoys all aspects of general practice. His skills in the operating theatre have saved many a pet's life and enabled many others to walk on four legs again. Nigel is very popular amongst his clients and staff alike; hence he became one of the youngest vets to take on a partnership in January 2003.
Rachael Day BVSc MRCVS
Rachael graduated from Bristol Vet School in 2003 and worked in a mixed practice before joining Cromwell Vets in March 2009 and becoming a director in July 2016. Professionally Rachael has an interest in ultrasound but enjoys all aspects of small animal veterinary work and she holds two ESVPS (European School of Veterinary Postgraduate Studies) certificates in Small Animal Medicine and Small Animal Surgery. Outside of work, Rachael enjoys spending time with her family, horse riding and walking her rescue terrier Tilly.
---
The Present Day
Clinical Directors, Nigel Belgrove and Rachael Day lead the team with the same dedication and family values that Ian Hall installed so many years ago. Cromwells now has a staff over 130 staff consisting of managers, vets, nurses, receptionists, admin, accounts and cleaners
One of many exceptional things about the Cromwell Vets is the length of service of many employees. Most of the Veterinary Staff have come straight from graduation and have stayed their entire working career. This is true also of the administration staff, many of whom have been employed for more than 10 years, some more than 20. Their professionalism and friendliness highlights just how we all feel working for the Cromwell Vets and their stability has been one of the success secrets of the Practice.
The growth of veterinary knowledge, equipment, medications and expertise has been incredible over the last 100 years but the principal of integrity in all areas of the Practice, initiated by Ian Hall and in each Partnership since, has been the foundation of a business which has grown steadily over the years. We will always seek to offer the highest standards of veterinary care and compassion for all pets entrusted to us.
After over 100 years of serving the community and caring for their pets..
This is just the beginning!!